Hydraulic H-Frame Presses from RK Machinery
A low pressure hydraulic system which maintains lower oil temperatures, resulting in higher efficiency and safer operation.
Large bore cylinders averaging 3,800 P.S.I. maximum pressure throughout our complete line of H Frame Presses. Working at a lower pressure means less heat and with higher efficiency and most important of all much less risk of liability issues. Most other manufacturers use small bore cylinders at 700 bar equal to 10,152 P.S.I. operating pressure.
All our hydraulic and mechanical parts are standard in the industry and available throughout North America.

Standard features available on most H-Frame Press models: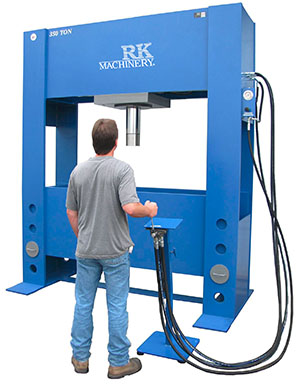 Electric / Hydraulic operation provides smooth, consistent pressing action;
Open sides facilitates work on long pieces;
Easily changeable flat ram nose allows the user to adapt the press to a specific job;
Quality, low speed Baldor motor;
Low speed pump offers a quiet, dependable operation;
Self-locking table design eliminates lateral movement;
Double-acting cylinder allows pulling as well as pressing ram action; (Not available on the MWH models)
Hydraulic power-lift permits vertical displacement of table on most models;
High capacity hydraulic oil reservoir;
Low pressure hydraulic system maintains lower oil temperatures, resulting in higher efficiency and safer operation.
Safety options: Safety standard CSA Z142 is now offered on the H Frame press models.

Available options for our H-Frame Presses:
Pressure regulator to limit the ram pressure. (Some models are standard)
Variable ram speed allows operator to select the proper speed for the task..
Foot pedal-electric solenoid valve for hands-free operation, c/w electric control panel.
Adjustable stroke control c/w foot pedal-electric solenoid valve and electric control panel;
Front security guard for operator protection.
V BLOCKS matched pair.

Based on your needs and specifications we will custom build hydraulic presses ensuring that the hydraulic H-Frame press you purchase will help you succeed.
Models available :

Additional options are available on each specific model. For exact specifications, please access our PDF document.